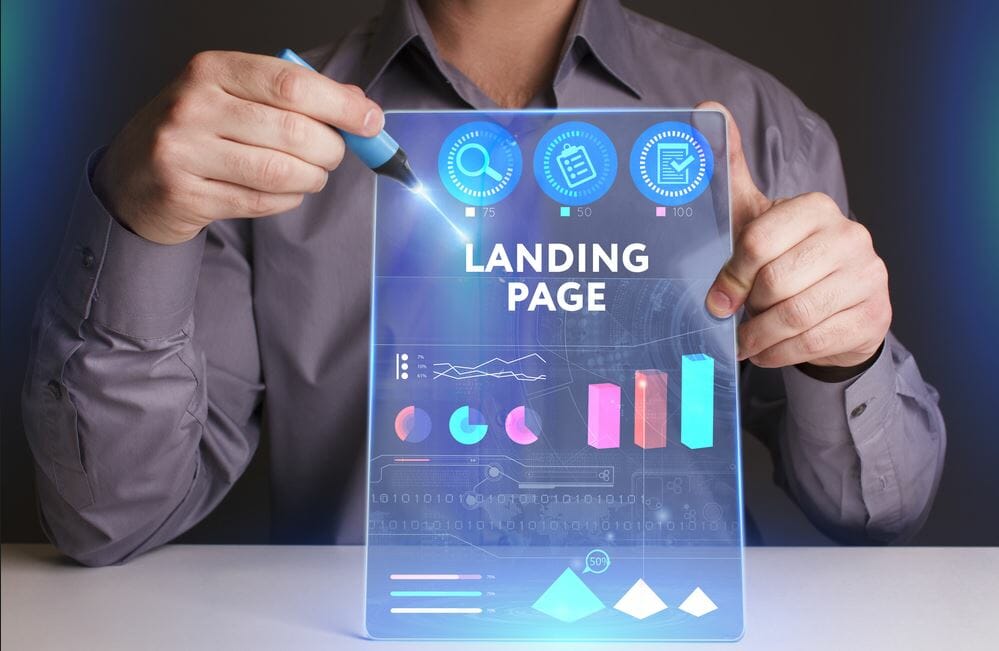 What if there were one thing you could do to improve your company's marketing ROI? An intriguing dilemma isn't it?!
If you want to generate leads for your business, landing pages are a great way to convert website visitors to potential customers. We'll be discussing what a landing page is, its benefits, and how you can make them more powerful to draw more customers.
What's a Landing Page?
What's a landing page on a website? In simple terms, it is the name of a page that is not part of your main website.
What's the purpose of landing pages? To convince people to take the desired action.
What does a landing webpage mean? It is a page that a user clicks on after they have clicked through via an email, ad or marketing promotion. This page often summarises what you have communicated and takes the visitor to the next step in becoming a customer.
Because social media campaigns highly target emails and other digital sources, landing pages have higher conversion rates than regular web pages. Sometimes, landing pages are also called destination pages or lead-capturing web pages.
Why use a landing page?
It can be a powerful way to increase traffic, improve SEO, and build your brand. In addition, most B2B companies use strategic landing pages to generate leads for future sales. As a result, they are an integral part of any digital marketing campaign.
Landing pages allow you to take control of the page by leading the visitor towards a particular action.
It is focused on short-term, specific goals that yield high returns.
They direct customers to a particular product, service, or offer and encourage them to take action.
This will increase your credibility and show your customer that your best interests are being considered. It is simple to use messaging and includes social proof.
Landing pages can help reinforce your brand by displaying consistent content, tone, style and copy. This will ensure that visitors are able to recall you even if they don't convert.
What is the Difference Between a Website and a Landing Page?
These are the key points that will help you distinguish your products:
A landing page usually has fewer links than a homepage. This is because a homepage, by definition, contains many links. An optimised landing page may only contain one link. Many times that would be a CTA for visitors to convert to customers.
The importance and purpose of a landing page lie in its audience and purpose. They target a particular stream of traffic attracted by a single offer, a lead magnet. This visitor is already interested in your offer and more likely to convert.
Homepages are designed to appeal to a broad audience and provide a variety of choices for visitors. A landing page focused on conversion, and all the information that follows it guides the customer through the next steps is what makes it a great landing page.
Types Of Landing Pages
Lead Generation landing page
This landing page's primary purpose is to collect leads via a data capture form. These pages can simultaneously present a request and reward to the visitor. They are often used at the end of the sales funnel when the customer is about to convert or walk away.
Click through to the landing page
Click-through landing pages don't require you to fill out a form but instead, act as a middleman between the advertisement page and the page it directs the visitor to. It includes a brief explanation of the ad's information and a bold and obvious CTA that links to the destination.
Sales Page
A sales page is intended to convince people to purchase. This requires delicacy and a deep understanding of the customers' needs and where they are in the sales process. The page should contain a pitch that clearly articulates the value proposition and the goal of getting people to click the "Buy" button. This page can be considered one of the most difficult landing pages.
Squeeze page
These landing pages can also be used to collect data, but their sole purpose is to collect email addresses to add potential leads to a general mailing list. These landing pages have minimal content, bold headlines and a clear CTA. They also include a link that will take visitors to the next step or an exit option.
The purpose of landing pages plays an important role in any digital marketing campaign. Therefore, it is smart for you and your customers to include a landing page. Continue testing landing pages and adding new ones until you find the best one for your business.